Post by Bear on Mar 17, 2015 19:57:39 GMT -5
In another thread Butterflies said -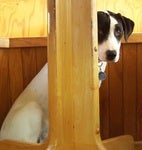 I loved this idea so much i asked if we could use this for an exhibition. so here it is.
Lets do an exhibition based on a year, or set of stamps (your choice) include the type of essay written about above, of course using stamps to highlight your thoughts.
The time line will be as follows.
Post intent to participate here by April 1st 2015
Entries to be submitted via PM to me by no later than May 1st 2015
Threads for discussion, voting, etc will be posted on May 2nd 2015
Voting will end on May 15th
And the prize will be 500 Mixed Stamps sent to the destination of your choosing. (no you are not required to keep them for your self, But i would!)
Winner will be selected by votes so all members and staff may participate.. Heck i may even get in on this one.
NOW for the fun part. the exhibition guidelines -
YOUR exhibit must be 2-4 pages + a cover page (cover page not required to have stamps or covers on it)
you decide what to depict, how to represent it, and you may use any or all of the following - stamps, covers, cut corners, Cinderella's, or Facsimiles.
easy enough?
Of course I would like to throw in one more catch. You must have these stamps CURRENTLY in your collection..
i would like to keep a running list of entries so please feel free to post your intent here (we understand if you may need to withdraw at a later date)....
so who is up for another one?
***one last note - we are an international forum (meaning world wide) we have members from a lot of differing backgrounds. If you are unable to post a positive message about some ones entry DO NOT POST ONE AT ALL... also be sure to take the time to read the forum rules regarding such matters before you PM me.. and please if their is a conflict that you simply can not avoid posting about - do it in a PM to me alone for discussion. ***